Many people ask how to become a dermatologist and if you are one of them, it is better if you have lists of questions and answers about dermatology so that you will be enlightened. If you are asking, "Why I love dermatology", these questions and answers will help you to understand a dermatologist career more to answer it better. Wondering how to write a plastic surgery personal statement? Click here and find the answer. On this page, you can find valuable information concerning dermatology residency personal statement writing.
Questions to Answer in Your Dermatology Personal Statement
Why you choose the school
Why you choose the dermatology career
What makes you unique apart from the rest?
What are your special skills?
What motivates you to take this career path?
What are your experiences related to this industry?
Find here any information you might need about the pulmonary critical care fellowship personal statement.
Requirements for Dermatology Application
Here are the specific dermatology board certification requirements for applicants that they need to prepare whenever they have plans in applying. The board certification requirements include:
Current curriculum vitae, including the medical school experiences as well as degrees earned (written in chronological order
Graduate from a medical school that is accredited by the Committee on the Accreditation of Canadian Medical Schools, Liaison Committee for Medical Education or American Osteopathic Association
Completion of AOA or ACGME
2 letters of recommendation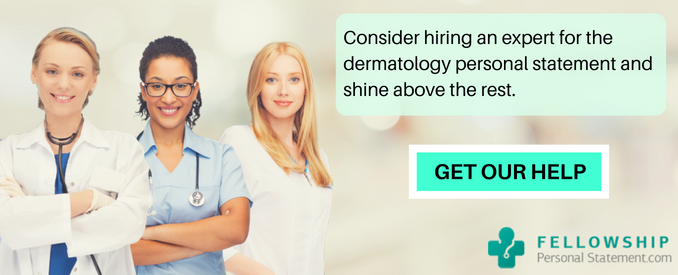 Why I Love Dermatology: List of Questions and Answers
What can students do in their first year and second year to prepare or explore dermatology?
Exposure of students in dermatology in their first year and second year is rare and here is the key to getting involved:
Join a Dermatology Interest Group or DIG. It is a good way to know about informational meetings, volunteer events, career panels, research opportunities and workshops.
Students can also participate in any Dermatology Homeless Clinic. There are dermatology clinics that meet each week and it is a great opportunity to learn more about clinical dermatology as well as to meet some faculty members and residents.
Students can also get a mentor. If you check out DIG, there are DIG members that are paired with a career mentor.
They can also try to do a research project during the summer after their first year. The project can be a meeting abstract, a publication or a research poster.
Students can check out the American Academy of Dermatology.
What are the common variations that exist in dermatology career after the training?
The fact is that there are four post-residency fellowship opportunities:
Procedural dermatology: It includes one-year specialized surgical training, including advanced training in the reconstructive surgery, micrographic surgery and cosmetic procedures.
Pediatric Dermatology: It includes one-year training in skin disorders treatment in children. The fellowship selection has a preference and it will be given to individuals who have completed the pediatric internship or pediatric residency.
Derma pathology: It includes one to two years training in inflammatory disorders and skin malignancies. Both anatomic pathology and dermatology residents will be eligible for the training in dermatology.
Medical Dermatology: It includes one-year training in medical dermatology, which includes the skin disorders with systemic manifestations as well as systemic immune suppression use. These programs are focused on the areas of medical dermatology like dermatology or Rheumatology.
What is the typical workday of people in dermatology field?
The workday will be dependent on the subspecialty is chosen by the person. For typical dermatologists, they see 30 to 50 patients each day with a mix of cosmetics, procedures and medical dermatology visits. For dermatologists, they do some surgical procedures such as cancer excisions and biopsies. It also includes cosmetic procedures such as chemical peels, liposuction, lasers, vein sclerotherapy, filler, and botulinum toxin.
What is the dermatology culture?
Dermatology is just a small field, but it allows them to have wonderful connections with other dermatologists around the world. They are involved with their own specialty having a great participation in local organizations like CalDerm, San Francisco Dermatology and other national societies and state.
Statement of Purpose for Dermatology: Reasons for Hiring Online Service
There are many reasons to hire statement of purpose for dermatopathology fellowship personal statement writing. With them, you get the essay that you need for your application.
They know how to write your letter of intent for dermatology. A letter of intent for dermatology is not something to write in 5 minutes. In fact, numerous applicants spend weeks in writing their essay. An online writing service knows what details to include in your letter of intent because they have years of experience in writing and they can finish it on time.
Fellowship dermatology writers work directly with you. The good thing with fellowship dermatology writers is that they work directly with their clients to understand what you need.
Dermatology personal statement sample. If you want to know how online service writers' work, you can ask for a dermatology personal statement sample. It will give you an idea of how they professionally work your personal statement.
The unlimited number of fellowship dermatology personal statement revisions. With an online service, you can take advantage of unlimited revisions until you are satisfied with what you get. If you want a personal statement fellowship dermatology that fully meets your needs, then choosing a service is a great idea.
Consider hiring an expert for the dermatology personal statement and shine above the rest. Finally, prepare application requirements and submit them before the deadline.
Get help and create a concise and well-structured dermatology personal statement today!