Fellowship in Plastic Surgery: Personal Statement Help

Proficiency
in ERAS® Application

We Treat Quality as the Weightiest Factor
An indifferent attitude toward quality equals disinterest in success.

Unequaled, Standout & Custom Documents
Submit an unprecedented and personalized personal statement. Grasp at the chance to express your uniqueness in your document! Mesmerize the selection officers once and forever!

Relevant to the Preferred Fellowship Program
Double proofreading and extra analysis are what helps us generate texts highly apposite to the programs picked by our customers. Also, we accentuate the program specifications that you prefer!

Consistence with the ERAS® & EFDO Criteria
Let the committee see a document that follows its rules. Gain self-assurance with a professionally crafted personal statement that is congruous with the admission committee's highest standards. Make them have zero negative arguments regarding your text!

Apt Utilization of Medical Terminology
Any doubts about our authors' command of medical vocabulary will vanish just after you get to know the broadness of their experience, the number of their medical degrees, and how strong their thirst for composing texts is.

Holders of Pertinent Degrees
While our experts' major is medicine, they are also ingenious writers. Each request is handled by our proficient specialists in short order. Our squad consists of people able to cope with any task.

Final Editing & Formatting
Filling out a blank sheet of paper with content is only the beginning. What lies ahead are editing & formatting sessions that our industrious pros perform in order to confirm the absence of any errors or inaccuracies in your application doc.
We are experts in writing :
Letter of Recommendation
Application Resume
MSPE, AND MORE!
Statement of Purpose
Personal Statement
ERAS Application Form Completion
And More!
More Features

Free-of-Charge
Chat with the Author
Whatever the reason for getting in touch with the expert is, they will consider your comments anyway. With that being said, you don't have to pay anything for exchanging lines with the medical writer. Each customer has such an opportunity.

Reliable Money-Back Policy
What if customers dislike orders we have been in charge of? Out of the few options, there is this one: demand your money back! As we promise excellent performance, you have every right to get repaid if we do not keep it.

Two Weeks of Edits
Made Free of Cost
All of our clients are VIP customers. Thus, everyone has a chance to have free emendations made to their docs. One point that should be added is that customers can enjoy this opportunity in case the deadline came less than two weeks ago.

Swift Performance & Rapid Delivery
We'll never fear a little amount of time left for you to write an order. Our medical pros craft those in a jiffy! They manage to complete all orders within the set time frame or even make customers surprised by how fast the job was done!

Risk-Free Payments
Regain your composure. Due to our top-grade software, no customer will sweat over the safety of their purchases. With that advanced technology, clients' money is highly protected, and their credit card details and personal records can no longer be visible or accessible to third parties.

100% Confidentiality
Want to discover how it feels to be 100% incognito? Visit our website! No gathering of private information, no storing of order data, no access granted to third parties! We aim at making certain you feel completely safe with us!



In Want of a Sterling
Fellowship Personal Statement?
Make sure the odds of your competitors are low enough! Receive support with 20% off!


Learn About Our Creditable
Medical Specialists
Put your trust in our talented, astute, and brainy medical authors professional in all medical fields. Free yourself of hesitations. Any prospective member of our team takes an onerous exam to get accepted!

Experts with Degrees

Connoisseurs of Each Medical Subspecialty

Effective in the Approach Targeted on Success

Quick-Witted in Writing Docs

Savvy Text Generators

Internal Medicine
Sharon is a hotshot whenever internal medicine is being dealt with. Cardiology, endocrinology, and gastroenterology are Sharon's most preferred specialties. However, she is proficient at each branch of internal medicine. Sharon will stick to your instructions regardless of how challenging they are. Order a medical admission text, and this expert will craft a real masterpiece for you!

Radiology
Interventional radiology, neuroradiology, breast imaging, and just all sphere-related fellowship docs will be coped with immaculately by Abbie. Crazy about brilliant transitions, proper order structure, and accurate grammar, Abbie produces texts that deserve the committees' maximum approval.

Orthopedics
Tony is our much illustrious writer. Nothing brings him more sense of fulfillment than writing fellowship docs in orthopedics. If you get lucky and have Tony as the author of your text, no trouble will threaten your success! He will go through each instruction, note, and comment and ensure that all the criteria are followed. Count on Tony with your doc without anxiety!

Dentistry
Want to receive an expertly written medical text in dentistry? Gabbie is the most practiced professional in this field! She is skilled in the preparation of docs and knowledgeable about the theoretical basics of this branch. Veg out! Choosing Gabbie would be a surefire decision.

Pathology
Gregory is ready to dedicate himself to the most demanding tasks that deal with forensic pathology, hematologic pathology, and neuropathology. However, Gregory is adept at every subspecialty. He easily handles urgent orders and huge quantities of data. Gregory is a priceless expert as he's admired by numberless clients!

Surgery
Reconstructive surgery, vascular surgery, neurosurgery, colorectal surgery, and all the other general surgery branches are as easy as pie for James. Provide your order specifications, and James will approach those, going past your desires. He's captivated by his specialization, and not a single snag can prevent him from making others' goals easily reachable.

Pediatrics
Pediatrics is of utmost value to Thomas. The second weightiest thing for him is his desire to help candidates for enrollment in medical programs. Do away with any mistrust. There barely exists a more gifted expert than Thomas.

Family Medicine
Howard is an impressively adroit medical specialist. His knowledge about his major and its branches is boundless. Howard Pittman is the best choice for a family medicine applicant!

Anesthesiology
The most outstanding skill that makes Beth an unparalleled medical writer is her approach to the preparation of fellowship admission docs focused on customer success. She is always particularly concerned about each client's enrollment. Also, Beth routinely puts efforts into predicting the committee's expectations from application docs. Besides, Beth's expert ranking is superb. Since in our team, Beth has not produced even one admission text later than required.

Psychiatry
Aim at getting a superior fellowship application text in psychiatry? Reach out to us and let Emma fulfill your order. Forensic, geriatric, child & adolescent, and more branches of psychiatry are the fields Emma is great at. Ask for the needed application document and let Emma prove her credibility to you!

Recommendations
Customer: #261521
Loved it. Thank you for all your work, Luke. I have referred your service. Have a great weekend. You deserve your money.
Customer: #292620
Thank you Terrell!! This is great, it's generic enough to let me use for several different fellowships and build off of it. Thank you again.
Customer: #229772
Thank you so much for the nice work.
Customer: #292691
I really like your draft. It is fantastic.
Customer: #202834
Like it a lot, flows great.
Customer: #207945
I am truly impressed, she gave me exactly what I wanted! Perfect paper and she really is so kind and pleasure to work with! Please send my compliments to her and to the management. I have worked with another writer but no one is truly as talented!
Customer: #290256
Thank you for the phenomenal job you did on the PS. I really liked. The LORs are really good as well.
Customer: #272045
It was good and on time. Thank you.
How We Work
Fill in the Form
The following entails no difficulty. Fill in the fields to let us know about instructions on preparing your medical text. Now, hit the payment button! To achieve 100% personalization, our fellowship authors require specific info about you, such as your attainments, the course that you consider, and the committee's criteria with regard to formatting.

Note that you need to pay special attention to our Questionnaire, which you have to download, complete, and attach to your order form. No third party is granted access to our customers' info. The privacy policy is applied to each client's private data.
Download a questionnaire

Pay the Cost of Assistance
As soon as we receive your money, our writer will begin preparing your order. Put an end to your qualms – all payments are safe with us. Moreover, our customers are informed about successful money operations by email.

Payment methods:


Secure:




Customer Area
As early as our company finds out about the client's successful transaction, the Customer Area login info will be forwarded to them. Later you can safely change your Customer Area password if there's such a necessity. This feature allows you access to a one-on-one chat between you and your writer. Besides, you will also be given an opportunity to download docs, order emendations, and purchase more fellowship admission texts via your Customer Area!


Be au Courant with Everything
To keep aware of the updates, refresh your email box page regularly. Alternatively, order SMS notifications to administer your text completion via your smartphone! After your order is prepared, our Quality Department will deeply analyze your text to see if any instruction point was overlooked or not. Later, the file can be saved via the Customer Area. All orders are forwarded at the estimated time or earlier! Got a reason for a revision request? Inform us for 14 days.


Track the Task Fulfillment

SMS & Email Apprising Methods
Opt for a more convenient type of
controlling the work done on your text.

Customer Area
Chat with the professional, receive the final copy,
and assign new orders without a hitch.

Client Support
Enter the chat room to ask our support
managers any order-related questions.
Writing a plastic surgery personal statement is a very important part of the application process for individuals looking to practice plastic surgery and help people improve their appearance and life. In the following, know the reasons to choose this career or apply for the microsurgery fellowship, and learn the best fellowships around to help you gain an advantage over the rest with a rigid and excellent training. What is the right structure of a cardiology fellowship personal statements? Click and learn now!
Why Choose Fellowship in Plastic Surgery
Encompasses the fundamentals of surgery such as nutrition, wound healing, and intensive care
Involves the fundamentals of plastic surgery such as flaps, lasers, biomaterials, wound care
Includes Craniofacial surgery or pediatric
Involves microsurgery
Encompasses hand surgery, lower and upper extremity reconstruction as well as peripheral nerve surgery
Trunks reconstruction, which includes chest wall, genital reconstruction, and complex hernias
Encompasses emerging areas such as face and hand transplant immunology
Involve aesthetic and cosmetic surgery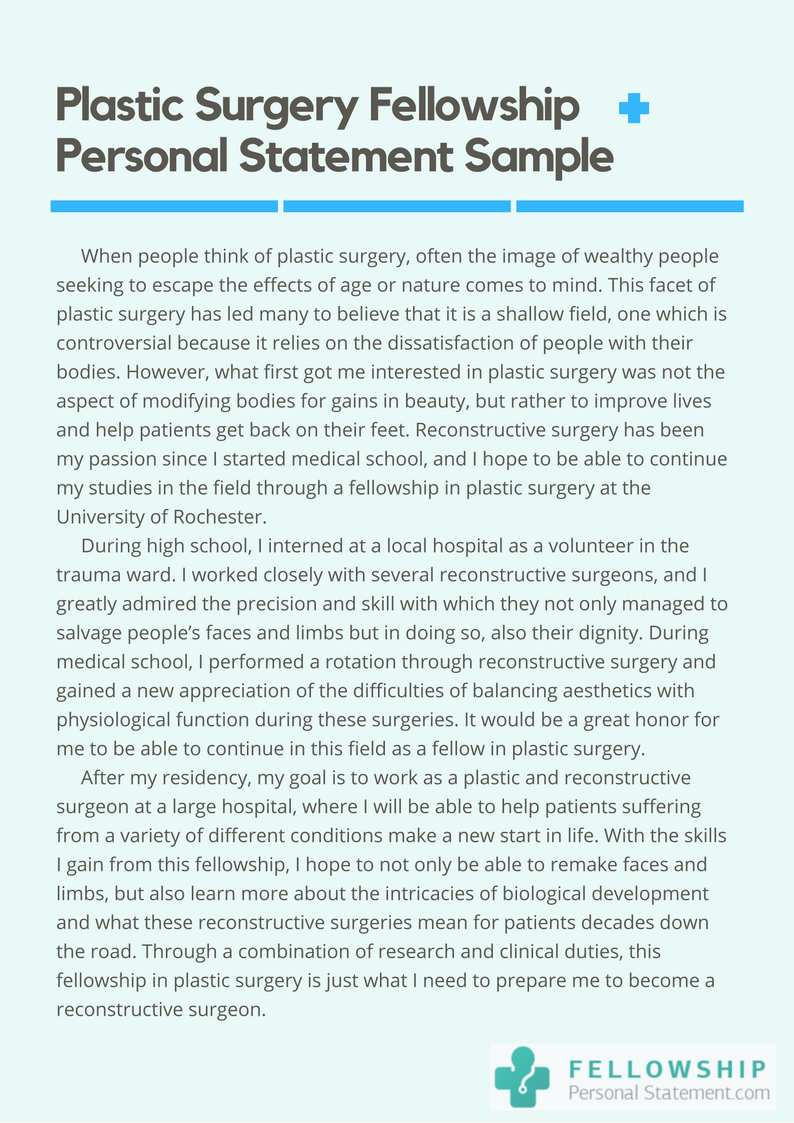 Plastic Surgery Fellowships List
The following is a plastic surgery fellowships list including the best schools where to apply for fellowships.
Washington University. The program deals with the repair, resection, reconstruction, and replacement of defects of form as well as the function of integuments. It also involves oral pharynx, trunk, breast and perineum, such as aesthetic surgery. Some of the documents needed are curriculum vitae, personal statement, reference letters, and photos.
Penn State University. The University is utilizing the ERAS application that is why applicants need to check out the ERAS application website to know what the documents that should be submitted are. Some of the requirements include letters of recommendation and personal statement.
UT Southwestern University. The plastic surgery department program gives a well-rounded and comprehensive clinical training, graduate research involvement and structured education in a great eighty-workweek environment. For the application, applicants need to pass the USMLE step one and step two prior to the program application deadline.
Oregon Health and Science University. The plastic surgery program welcomes applicants to apply for the position through ERAS. The program does not accept any paper applications because only applications submitted to the ERAS will be considered. The ERAS application consists of the personal photograph, dean's letter with applicant transcript and personal statement.
Albany University. The Fellowshipplastic Surgery is a fully accredited one having a strong didactic program with the combination of broad surgical experience. Their aim is to train surgeons who are qualified and eligible to become board certified.
Henry Ford Medicine. The program is a 3-year with a strong emphasis on research. To qualify, applicants need to fulfill all the requirements set by the American Board of Plastic Surgery, which include the board eligibility of acceptable specialties and completing the application process of SF Match.
Dartmouth-Hitchcock University. The plastic surgery program is an ACGME accredited and it is a 3-year program that offers one position at PSY6 level. The program gives board-based and comprehensive training experience through exposure to minor surgery suite, outpatient clinics, outpatient surgery center, inpatient wards and main operating room. The application should include USMLE step one and two scores, 3 letters of recommendation, personal statement, transcript, ECFMG certification if it is applicable and dean's letter.
Emory University. The program is a 3-year and applicants should have completed 5 years ACGME recognized clinical general surgery training. Application requirements include three recommendation letters, a completed application form, an all in-service exams medical school transcript, an ECFMG certificate and the results of standardized tests such as USMLE, FLEX, FM GEMS or any of its equivalents.
Fellowship in Plastic Surgery: How to Start
The very first step to start plastic surgery is that you should not forget everything that you have learned from other physicians, especially about the medical practice value. It is also essential that you should not forget about the strategies in plastic surgery. Another thing that you should not forget is to learn about the realities of plastic surgery's value.
Things to include in the personal statement
Your motivations
Your accomplishments
Your reasons for applying to the school
Your reason for choosing this specialty
Tips to start writing
Choose a central theme or concept.
Include only related accomplishments and experiences that support your story.
Be yourself in writing.
Avoid humor.
State reasons for the program and reasons you want to become a plastic surgeon.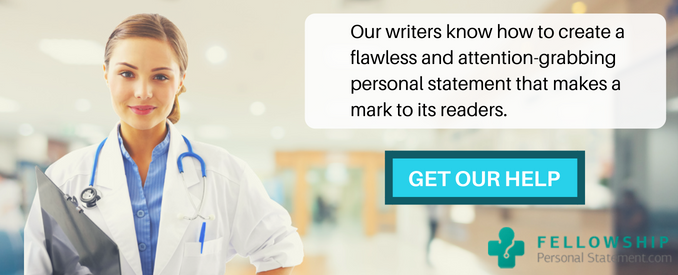 Benefits of Hiring Us for Surgery Personal Statement Help
Writing a surgery personal statement or anesthesiology fellowship personal statement is not easy to do because there are many things to consider in accomplishing the personal statement. For one, it has to grab and keep the attention of its readers. That is the very reason to get help from the pros in writing this type of personal statement. So if you are struggling, choosing a plastic surgery personal statement service is your solution. With them, you get numerous benefits such as,
Working with surgery personal statement experienced writers
The personal touch on the personal statement for fellowship
Exclusive discounts for customers
Personal statement for fellowship free consultations
Communicating with the best writer directly
Whenever you need plastic surgery personal statement help, an online service is available for you. They are experts who have helped thousands of student applicants accomplish the best personal statement for the specialty. They know how to create a flawless and attention-grabbing personal statement that makes a mark to its readers.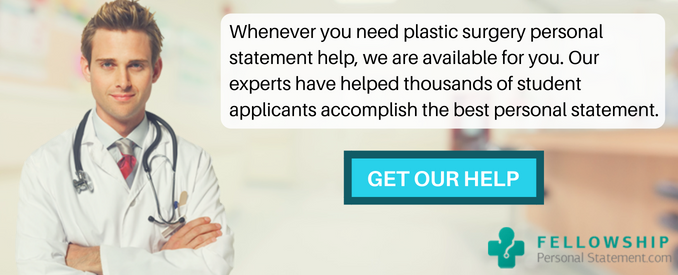 Get help for fellowship in plastic surgery personal statement today and leave all your worries behind!