What Is an Administrative Fellowship?
"What is an administrative fellowship?" is a question that we are asked on a regular basis. A healthcare administrative fellowship is a post-graduate fellowship program that provides practical, hands-on experience in various healthcare organizations and academic medical centers. Although these fellowships are in the field of healthcare, they don't require a medical degree but a graduate degree is necessary. Acceptable graduate degrees include the master of healthcare administration (MHA), master of business administration (MBA) and master of public health (MPH).
How to Write a Healthcare Administrative Fellowship Personal Statement
The personal statement for healthcare administrative fellowship application should address the questions of
Why you want to go into healthcare administration and what made you become interested in it as a career
Qualities and characteristics you have that make you suitable
Short and long-term career goals you have in the field.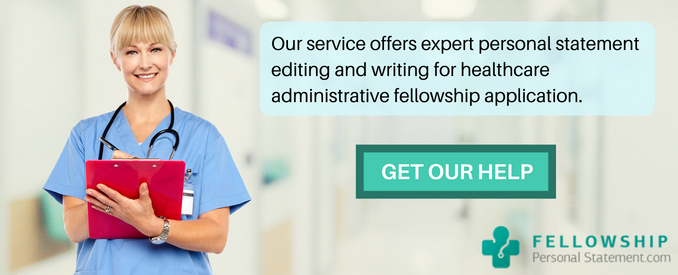 The following are some tips and suggestions to help you write your healthcare administrative fellowship personal statement:
Be specific. Selection committees want specifics and not general statements, so try to use a quality sample statement of purpose for healthcare administration or get professional writers' help. Provide examples and specific information in your personal statement.
Don't use quotations or clichés. Your personal statement should be in your words
Use clear and concise language. Statements should be easy to understand and get directly to the points you want to make
Proofread. Your personal statement should be free of errors in spelling and grammar similar to high-quality healthcare administration personal statement examples
Reviewing administrative fellowship personal statement examples or medical residency personal statement examples can provide some insight into how you can write your own personal statement but should be used as a guide only and never copied.
Healthcare Administrative Fellowship Personal Statement Sample
Having two parents in the medical field and an interest in medicine myself, it appeared I was predestined for medical school. However, during my undergraduate studies, I began to question my suitability to be a physician. My abilities seemed to lay in other areas. I eventually decided against applying for medical school and opted for a degree in business instead.
I recently completed my MBA at XXX University and graduated with honors. Despite choosing to obtain an MBA rather than a medical degree, I have never lost my desire to serve in the field of medicine in some fashion, which is why I have decided to apply for a healthcare administration fellowship.
I have done volunteer work with the XXX Department of Health for the past three years and my experiences there have served to strengthen my belief that this is the right choice for me. Healthcare management systems are in need of change, and I believe solutions to problems within the healthcare system must come from those within the system itself.
My abilities and background are ideally suited for a role in healthcare administration. To make the best use of my talents, I need to expand my knowledge of the inner workings of healthcare organizations, a need that will be satisfied by the fellowship I am seeking. The fellowship will assist me in my goal to improve the healthcare system from the inside.
Writing the healthcare administrative fellowship for physicians personal statement isn't easy for many applicants, and in many cases, they will turn to a professional personal statement writing service like our company offers, for help. So if you don't know how to write a personal statement for the healthcare administrative fellowship application, feel free to get in touch.
Healthcare Administrative Fellowship Personal Statement Writing Help
Our service offers expert personal statement editing and writing for healthcare administrative fellowship application, like healthcare administrative fellowship for physicians. The writers we use are skilled professionals with the background, knowledge, and experience to provide any assistance you need. Every personal statement we provide is completely original, written to meet the individual applicant's requirements, based on the information they provide. Some of the advantages you gain from using our service include:
Free revisions to personal statements we provide until you are satisfied with the results
Guarantee of complete satisfaction for all the work we provide
Inexpensive rates that are easy on your budget
Around the clock help with personal statement for fellowship and customer support

Contact us for a high-quality healthcare administrative fellowship personal statement that increases your chances of being selected without breaking your budget.