What is the Electronic Residency Application Service? It is a web-based service that transmits all application requirements as well as supporting documentation for US fellowship positions. In today's post, learn what the components of ERAS as well as the documents to submit for it are. Later, check out important dates to remember for your application.


ERAS fellowship application is a multistep process which lay a lot of responsibilities on you. One of them is to request for your tokens at EFDO and fill in your MyERAS profile. While doing this, you will need to assign some documents to your profile. Professional fellowship personal statement writers from our service will give you more details about the document for your fellowship ERAS application.


ERAS online service allows medical students to find a suitable residency or fellowship program and apply to it almost effortlessly. Nevertheless, you need to be well aware of the application process and your responsibilities in it. ERAS fellowship application process slightly differs from the one which students applying for residency go through. Our professional fellowship personal statement writers will give you an overview of ERAS fellowship application to facilitate the application process.


Which Documents Do I Need for Fellowship ERAS Application?
The first thing you need to remember about your fellowship ERAS application is that you need to submit certain documents to the EFDO ERAS before the application deadline. These documents are:
Medical Student Performance Evaluation (MSPE)
Medical School Transcript
Digital Photograph
ABSITE Transcript (for surgery applicants)
Apart from that, you will need to upload your personal statement and the dean's letter to your MyERAS profile. Our service wants to say a couple of things about your ERAS fellowship personal statement writing. Keep in mind that all personal statement guidelines and examples are only there to prepare you to write your own paper. Your personal statement should be individual and unique. You will never be able to fulfill the requirements of all the programs, so our writers from fellowshippersonalstatemtn.com recommend you listening to yourself. We are sure that this is a winning strategy which will help you get a place in the program which suits you best.
Components of ERAS
(*Source: About AAMC)
MyERAS: This is the website where the applicants can complete their application to MyERAS.
DWS: This is the software used by the Designated Dean's Office.
PDWS: This is the ERAS software used by program staff for receiving, sorting, reviewing, evaluating and ranking applications.
LoRP: This is the tool that enables LoR authors and administrative users to upload letters directly to ERAS.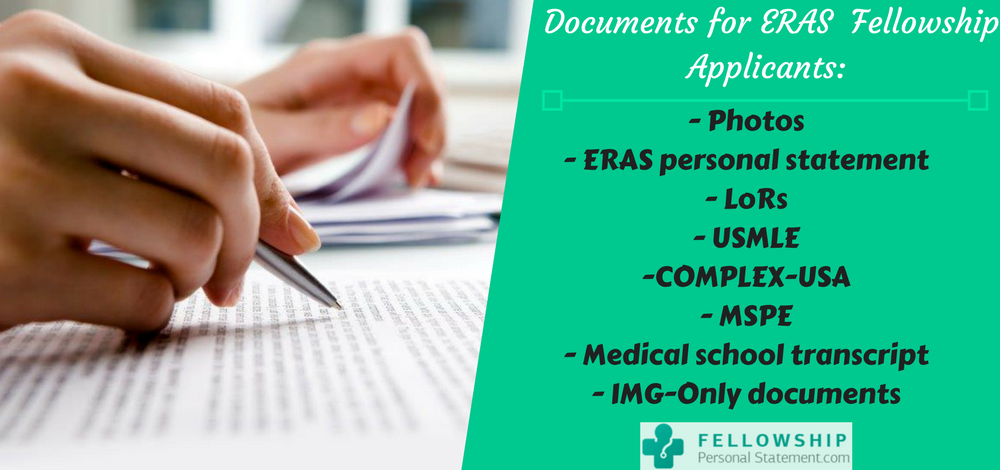 ERAS 2016 Fellowship Application Timeline
June 9: MyERAS opens for fellowship applicants
July 15: ERAS PostOffice opens to July cycle programs
December 1: ERAS PostOffice opens to December application cycle programs
May 31: MyERAS closes at 5 pm ET
6 Tips for ERAS Fellowship Applicants
Update or write your curriculum vitae. If updating it, check it with timely important information about you, your experience and other essential details to include.
You can request letters of recommendation beforehand.
Focus on creating a list of programs that pique your interest.
For specific programs, review websites closely for your guidance.
You should meet the subspecialty director of the program to which you are applying at your home institution.
You may also want to talk to the current fellows who also choose the selected subspecialty.
There you have what to know as well as what to submit your fellowship application. Remember the important dates as well as submit the personal statement for fellowship on time. Finally, see to it that you submit an impressive personal statement, CV, and LoR. Prepare these important documents early on so that you can still make needed changes until you achieve perfection. We can answer all your question about the application documents, as well provide you with all the needed assistance with fellowship personal statement writing.
Do you want to get a winning fellowship personal statement? Our professional service knows how to help you! Grab our special offer of 23% discount by using the code ERAS2016 today!