Issues to Address in the Pediatric Dentistry Personal Statement for Fellowship Application
Application to a pediatric dentistry fellowship program will include the submission of a pediatric dentistry personal statement or dental surgery fellowship personal statement. The personal statement is one of the selection criteria admissions bases applicant acceptance on, and should not be overlooked when preparing the application package. The personal statement dentistry applicants to pediatric dentistry fellowship programs submit are the best chance to make a direct case for being admitted to a program.
To be effective the personal statement needs to address the following:
Applicants reasons for wanting to specialize in pediatric dentistry
Assets they bring to the program. Assets refer to skills and abilities not reflected in other portions of the application
What the applicant expects to gain by completing the program
Future career plans related to pediatric dentistry
Personal Statement Dentistry Writing Tips for Fellowship Application
A pediatrics fellowship in dentistry can be difficult to get due to the competitiveness for limited available openings. The following tips can be useful in writing an attention-getting a personal statement that makes the right impression:
Be specific in your personal statement. General statements don't tell admissions anything personal about you. Explain your motivations for choosing to specialize in pediatric dentistry. In addition, use examples to back up statements and claims.
Don't include a list of accomplishments. Despite advice to the contrary, many personal statements go something like " During my studies, I completed blah blah. After that, I enrolled in blah blah. Then I continued by blah blah". It's boring and admissions already have this information. Try to write a personal statement that tells a story related to why you chose the specialty. It will be noticed.
Don't try and second guess admissions. You may believe you know what admissions want to read your statement but you are wrong. Be honest and be yourself.
Show your passion for the field. Programs want to admit those who are passionate about the field of pediatric dentistry. However, display this through examples rather than using the word passionate.
Reviewing successful examples of fellowship personal statements can provide you with an idea of what works and what doesn't. Here is an example of a pediatric dentistry personal statement for fellowship application:
When you discuss dentistry or dentists with people, its common to find a certain percentage who have feelings ranging from dislike, fear to even hate for the dentist and the profession of dentistry. Open heart surgery performed with a pocket knife is preferable to a trip to the dentist in some people's minds. As a child, I was afraid of the dentist myself. I think the strong feelings that many people have for dentists is the result of childhood experiences they had with dentists. If your first visits to the dentist involve pain and were a bad experience, then it's natural to dislike going. This is one of the reasons I wish to focus my career on pediatric dentistry. I feel this is the area where I can do the most good and set my patients on a path to good dental health for the rest of their lives.
During my dentistry education, I have been exposed to a number of different areas of specialization. I found all of them to be interesting and am certain any of them would provide a challenging and rewarding career. Of all the dental specialties, pediatric dentistry is the field that I believe will be the most rewarding for me. As a pediatric dentist, I will influence the dental health of patients all of their lives. By providing children with good dental care, making their dental experiences as pleasant as possible, and educating children and parents in good dental health practices, I will be helping them to establish dental health habits that will benefit them for many years as adults.
I volunteer at the free health clinic on a regular basis which offers opportunities to see a wide variety of dental problems that I would probably not see in a regular clinic. Once a month I also visit local schools to educate students on better dental health care. Talking with young students and answering their questions has helped me in learning how to establish a good rapport with children.
I am looking forward to a long career in pediatric dentistry. The chance to be a good influence on daily dental habits and provide a dental experience that results in healthy teeth and shows a trip to the dentist isn't something to be feared is something I look forward to. The knowledge gained through your pediatric dentistry program will provide me with the tools to be a good pediatric dentist, and my enthusiasm for the field and passion for my work will ensure those tools are put to good use.
Many applicants to fellowship programs have difficulty writing their personal statement. Our fellowship personal statement service offers assistance when you need it.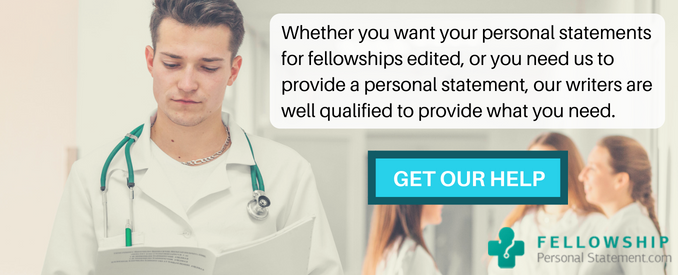 Qualified Pediatric Dentistry Personal Statement Writing Assistance
We specialize in fellowship personal statements and offer some of the best-qualified help in the industry. The professional writer assigned to work on your pediatric dentistry personal statement will have a graduate degree related to pediatric dentistry in addition to superlative writing skills and extensive experience with the fellowship application and personal statement requirements and process. Whether you want your personal statements for fellowships edited, or you need us to provide a personal statement for you, our writers are well qualified to provide what you need. Advantages of using our service include:
Guarantee of complete satisfaction on all work we provide
Fair and reasonable rates that won't break your budget
Easy online order and payment process
Live customer support 24/7
For a pediatric dentistry statement that creates a favorable impression, contact us for all of your personal statement needs.